expired Free Donuts, Coffee and Wi-Fi Hotspot from Circles.Life (Century Square, 12pm to 9pm)
10
Still some time left for this offer - ends 9pm tonight. Location is Century Square next to the taxi stand.
Experience the CirclesCare app, get connected to Circles.Life's free Wi-Fi hotspot and get donuts and coffee.
Referral Links
Referral
:
random (5)
Referees get $20 off their registration fee. Referrers get 200 MB/month bonus data on their plan.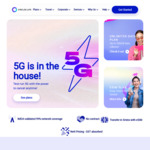 Related Store: Circles.Life