Singapore to London Return $528.80 (or $199.90 One Way to London) via Norwegian Shuttle (March - June)
Norwegian Air Shuttle is offering direct flights to London Gatwick for $199.90 one way and $528.80 return. The outbound from Singapore is $199.90 and the inbound is $328.90. While not as cheap as last time, $199.90 one way is pretty decent. What you could do is book the outbound to London and wait for a deal coming back the other way (maybe if Norwegian UK has a sale).
Flights are via the 787 Dreamliner. The bad side is that these fares don't include bags, seat selection & food. Bags are $45 each way. If you want bags, food and seat section you are better selecting the LowFare+ option which adds about $90 on to the fare each way. Still a good price.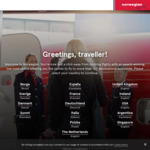 Related Store: Norwegian.com