Singapore Return to Guam $496, Honolulu, Hawaii $951 via Philippine Airlines (Feb & March)
Philippine Airlines is offering return flights to Guam for $496 and to Hawaii for $951. The Guam flights are $100 cheaper than the last deal in April. Flights include bags, food and seats. Dates are February and March. All flights include a small stopover in Manila.
Unfortunately, the Scoot deal for $555 return expired and their normal prices seem to be over $1000. So in that respect it is a good deal now however there is an expectation that Scoot will offer some more deals.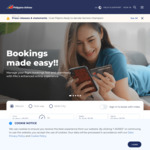 Related Store: Philippine Airlines