Return Flights to Chicago, Illinois, USA $855 via Delta Airlines (October & November)
Delta Airlines is offering fares to Chicago, Illinois for $855 return. Prices include seats, food, and bags. Short layovers in Tokyo and Seattle/Detroit.
Might be a good option for Cubs fans if they get into the World Series.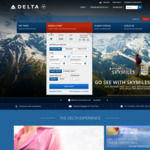 Related Store: Delta.com