Free Entry to Singapore Contemporary ($25 Tickets) with Access to VIP Lounge & Free Drink (Thursday 19/1)
Singapore contemporary art festival. Usu $25 tickets at gate. Or 1:1 prebuy.
Free access with printout! But need to give your details
On thur you get a free drink between 5.30-9pm
Other days get access to the VIP lounge for free
Kids programs run free during the festival.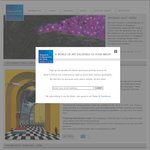 Related Store: Singaporecontemporary.com