expired Deliveroo SG - $5 off All Orders with Apple Pay
10
As indicated on a Chicken Up Facebook post and Park Bench Deli Instagram post, get $5 off your delivery order when you pay using Apple Pay. Valid for both new and existing customers.
Part of Apple's Chinese New Year offers. Offer is limited to the first 3500 orders or until the 5th of February. No promo code is required.
See full the list of Chinese New Year promotions for just Apple Pay here.
---
Promotion - $5 Off Deliveroo With Apple Pay

$5 is applicable for the first 3500 Deliveroo orders placed from 7 Jan 2017 - 5 Feb 2017 and paid via Apple Pay on iOS (Apple Pay on website is not eligible) unless this offer is terminated earlier by Deliveroo for any reason at its sole discretion.
A minimum spend is applicable in order to validate and use any discount, voucher or code.

Unless otherwise stated, all discounts, vouchers or codes must be redeemed within one calendar month.

All promotional validity dates are specified on the adverts, coupons or leaflets, please refer to the summary terms on these pieces of artwork for exact and further information specific to that promotion and its promotional period.

Alcohol will only be supplied to those aged 18+.

This promotion cannot be used in conjunction with any other Deliveroo offer.

Discounts, vouchers or codes cannot be exchanged for cash or any other alternatives and have no monetary value.

Cancelled orders will invalidate the use of that code on an account.

Discounts, vouchers or codes may be provided on a customer service basis and will be applied to the customer's account in the form of credit which has to be used in one order at Deliveroo's sole discretion.

Any attempt to manipulate the system and use of discounts, vouchers or codes by use of bulk entry via third parties or syndicates, macros, 'script', 'brute force', masking identity by manipulating IP addresses, using identities other than their own or any other automated means or other automated means (including systems which can be programmed to enter), will render the order and use of that discount, voucher or code invalid and may potentially lead to that account being closed down or other actions including reporting to the appropriate authorities.

If for any reason a discount, voucher or code becomes invalid due to technical failures or any other causes beyond the control of the Deliveroo, or a meal or restaurant becomes unavailable, Deliveroo reserves the right (subject to any written directions given under applicable law) to cancel, suspend or modify the campaign that is related to that discount, voucher or code and not re-issue any additional discounts, vouchers or codes to affected customers.

Deliveroo reserves the right, where necessary, to undertake all such action as is reasonable to protect itself against fraudulent or invalid redemptions including, without limitation, to require further verification as to the identity, age, and other relevant details of a customer.

By redeeming the discount, voucher or code, customers agree to release Deliveroo from any liability whatsoever for any claims, costs, injuries, losses, or damages of any kind arising out of or in connection with the campaign or with the acceptance or possession of any order (except death or personal injury caused by the Deliveroo's 's willful misconduct or fraud or otherwise as prohibited by law).

All meals and restaurants are subject to availability.

Normal registration and Deliveroo delivery terms and conditions apply, for full terms and conditions please refer to https://deliveroo.com.sg/legal.
---
See More:
---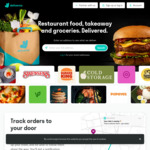 Related Store: Deliveroo SG