Free Breakfast & Coffee Pack at Old Chang Kee (Ang Mo Kio MRT Station, Monday 16th to Friday 20th April)
Old Chang Kee is giving away free breakfast and a coffee pack at their outlet at Ang Mo Kio MRT Station everyday this week. Limited to the first 500 customers daily.
From 7am on 16th, 18th and 20th April and from 8am on 17th and 19 April.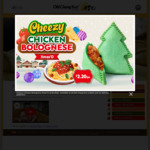 Related Store: Old Chang Kee